WeTNR: We Educate Trap Neuter Return
It all started when...
Yoga4Cats won the Young Philanthropists Giving Circle's yearly grant. In the fall of 2017, the YPGC hosted their first shark-tank style pitch party and let the audience decide which of the five nonprofit pitches should win the $5,000 grant. Other presenters included Big Brothers Big Sisters, Decatur Park District, MRI and Northeast Community Fund.
With the $5,000, Yoga4Cats was able to implement our proposed WeTNR (We Educate Trap Neuter Return) program and fund it completely for 2 years.
Through WeTNR, Yoga4Cats will educate the community on stray and feral cats as well as the benefits of trap, neuter, return. The group will also provide hands on assistance with trapping, adoption assessments and, if the cats qualify, placement into a foster home. Within the two years funded by this grant, Yoga4Cats projects they can trap 70 cats, which in turn, will prevent over 10,000 kittens from being born.
ACTUAL RESULTS: Due to supplemental donations and support from local vets (Cats Only and Decatur Animal Clinic), our WeTNR program served an astounding 110 cats and kittens in the first year! Our grant funds have since been depleted and WeTNR now relies solely on donations to continue these important efforts. The inception of this program has made a significant positive impact on our community. Since winning the grant for WeTNR, Yoga4Cats applied for and received our foster-based rescue license through the Illinois Department of Agriculture. This allowed us to place cats and kittens deemed adoptable through WeTNR, as well as pull at-risk cats from our local Animal Control facility. In less than one year, Yoga4Cats has pulled more cats from Macon County Animal Control than any other organization – EVER! Transferring over 60 cats to our deCATur Fosters program reduces the spread of disease in the shelter. Since January 2018, euthanasia per cat intake at Macon County Animal Control has gone down by 20%, showing a strong correlation to Yoga4Cats collaboration with the shelter.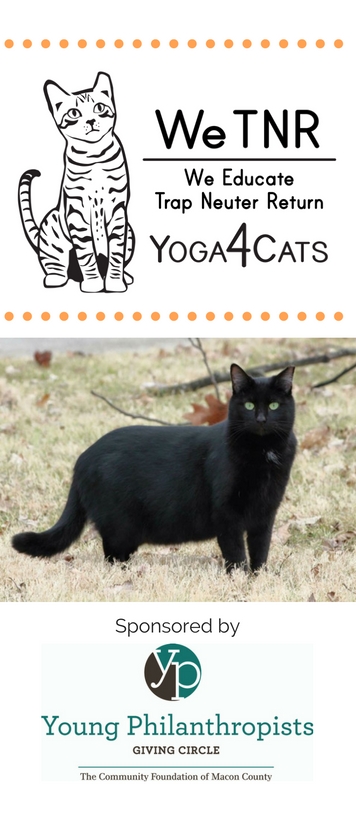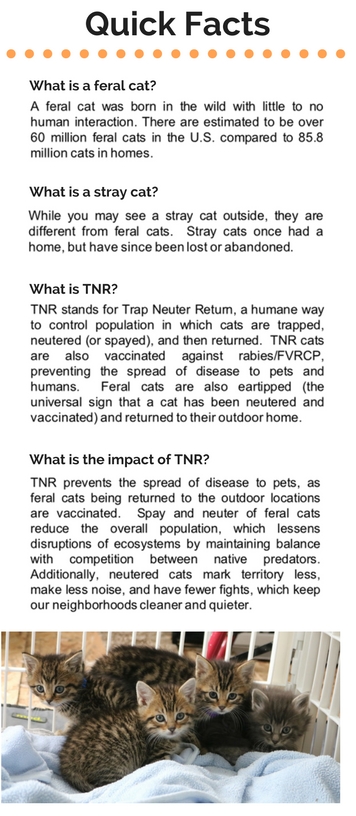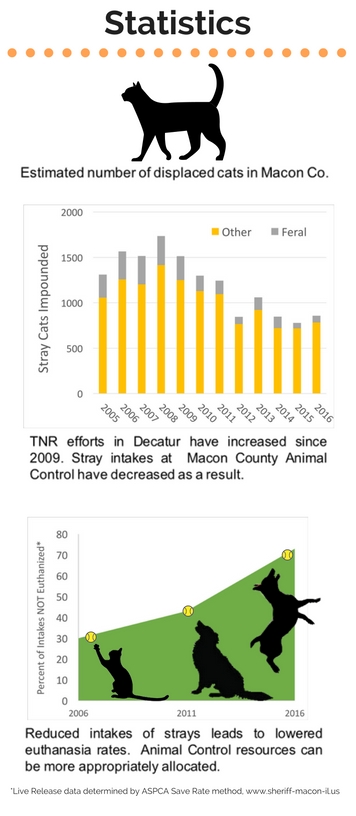 OPERATION HELP MEOWT
In Spring 2018, Yoga4Cats partnered with the Humane Society of Decatur and Macon County (HSDMC), the Animal Protective League (APL) and Macon County Animal Control and Care Center to create Operation Help Meowt. The partnership was created to assist an indoor/outdoor cat colony that had grown out of control and previously housed over 80 cats and kittens. Assisting with situations like this always comes at a significant cost, as all need veterinary care. Yoga4Cats asked for our community's help in raising funds to care for these cats and with a fundraising goal of $2,500 - and we got it!

This colony had become unmanageable due to the vacuum effect. When cats are removed from an outdoor colony, but a food source remains, more cats come to take their place. The vacuum effect is why catch and kill is not an effective measure to control feral cat populations. On the other end of the spectrum, well-intended people can make this same mistake by bringing cats indoors. New cats will continue to inhabit the colony, and without spay and neuter, population control is impossible.
Operation Help Meowt worked to remove the cats brought indoors from a colony that has gotten out of control for the caretakers. On Saturday, April 7th 2018, Yoga4Cats and HSDMC began the project by removing 43 cats: 7 mothers, 34 nursing kittens, and 2 weaned kittens. Yoga4Cats accepted 3 nursing moms and litters, HSDMC accepted 2 moms and litters, which are now at APL, and APL accepted 2 moms and litters and 2 weaned kittens.
In the following weeks, Yoga4Cats assisted with the efforts to trap the remaining cats for spay, neuter, and vaccinations. All of the adoptable Y4C cats and kittens from the OHM mission have since found their forever homes!
You can help us continue to help control the overpopulation of cats in our community by contributing via the Donate button at the bottom of this page.
Donations are also accepted on Facebook (www.facebook.com/yoga4cats), through PayPal (www.paypal.me/yoga4cats) or by mail to P.O. Box 712, Decatur, IL 62525.